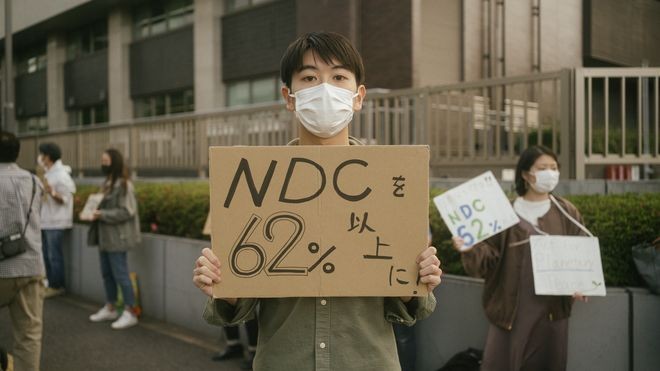 Not good enough. That was the message to Prime Minister Yoshihide Suga from young climate activists on the day he officially unveiled the government's new target to reduce greenhouse gas emissions.
On April 22, in 67 locations in 23 prefectures, activists held up signs claiming that what the government has written is failing to adequately tackle climate change.
Kazuto Nakano, 19, and Miu Terashima, 19, marched through a Kyoto street holding a banner that read: "We demand that the target for reducing greenhouse gas emissions be dramatically increased.
Terashima carried a sign around her shoulder that read "62% to protect the future of the globe".
"The government should set a reduction target strict enough to limit the temperature rise to 1.5 degrees or less and take action to meet that target," Nakano said.
They insist that the target should be raised to a 62 percent reduction in emissions by 2030 from 2013 levels, compared to the prime minister's target of 46 percent.
As part of the more difficult target, Japan could still adhere to the Paris Agreement target of limiting global temperature rise to 1.5 degrees from pre-industrial levels.
As global warming will have a greater impact on young people and future generations, and Japan is a major emitter, high school and college students are raising their voices to urge government and business to aim higher.
On the same day, a group of about 10 young people and adults appeared in front of the building of the Ministry of Economy in the Kasumigaseki district of Tokyo with signs. Minori Hirose, a 16-year-old sophomore high school student, said she got her first day off to join the campaign.
"Unless we stand up, people will think we gave up (of the 62% goal)," Hirose said. "I want to live in a society where you can go to school without any anxiety."
Their desire to increase the target follows an independent scientific analysis report published in March outside Europe by Climate Action Tracker (CAT).
The report calls on Japan to reduce its emissions by 62% by 2030 from 2013 levels in order to adhere to the Paris Agreement target.
When the global thermostat rises more than 1.5 degrees, humans will have to rely on unrealized technologies, such as carbon capture, to bring the figure back to the previous level.
If this happens, it will become increasingly difficult to know if global warming can be stopped. This makes young climate activists hope the government could still hit the 62 percent target.
In a special report published in 2018, the Intergovernmental Panel on Climate Change estimated that a 62% reduction in emissions would be helpful in preventing the temperature rise from far exceeding 1.5. degree.
The Kiko Network, a non-governmental environmental advocacy group, is also lobbying Tokyo to raise the 2030 target to 60% based on the CAT report.
According to the World Meteorological Organization, the global temperature has already risen by about 1.2 degrees. The IPCC predicts that it will reach 1.5 degrees by 2030.
Much of the concern of young activists revolves around the Japanese government's stance on retaining coal-fired power stations, a major source of greenhouse gas emissions.
Young climate activists protested against a coal-fired power plant being developed by electricity supplier JERA Co. in Yokosuka, Kanagawa prefecture, on April 22, arguing that it was necessary for Japan to phase out. coal energy to succeed in the fight against climate change.
"The completion of a new coal-fired power plant will help accelerate global warming," said Hikari Matsumoto, 21, pledging to continue his opposition to coal power. "It is not consistent with the goal of limiting the rise in (overall) temperature to 1.5 degrees or less."
(This article was written by Akemi Kanda and Keisuke Katori.)