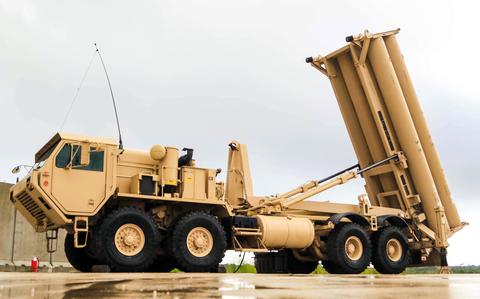 CAMP HUMPHREYS, South Korea — Large-scale military exercises with US troops and a US-made missile defense system will be back on the table when South Korea's new president is sworn in in May.
President-elect Yoon Suk Yeol and the conservative People's Power Party issued a statement of their goals for his five-year presidency on Feb. 25. In the document, Yoon and the party called for "strong national security and defense" bolstered by an ironclad alliance between South Korea and the United States.
Yoon's political plans specifically call for the restoration of "broken trust" in the alliance. South Korean President Moon Jae-in's tenure was marked by some unease during Donald Trump's presidency, some of which was based on Trump's allegations of trade inequalities between the United States and South Korea.
Trump, in private talks with advisers and speeches behind closed doors, threatened to withdraw some of the 28,500 US troops from South Korea, citing an unequal cost-sharing agreement to station those forces in the country, according to multiple reports. and a White House memoir written by former national security adviser John Bolton.
Under the Trump and Moon administrations in 2018, the US and South Korean militaries began conducting smaller computer simulations instead of large field exercises. The two leaders suspended joint drills and described them as costly and detrimental to lowering tensions with North Korea.
North Korea denounces the U.S.-South Korean military exercises and, in articles in its state-run newspaper, describes them as "hostile" behavior.
Previous field exercises included about 11,500 U.S. troops and 290,000 South Korean troops operating from land, air and sea.
Yoon's political plan assures that his administration will "rebuild" the military partnership that would "normally conduct theater-level command post exercises and field training exercises."
Yoon's plans also appear to undermine Moon's reluctance to deploy an additional US-made missile defense system in the country. The $800 million Terminal High Altitude Area Defense System, or THAAD, was deployed in South Korea in 2017 as a defensive measure against North Korean missiles.
The deployment of the THAAD battery prompted China to retaliate financially against South Korea, resulting in an estimated $7 billion loss to the economy, according to South Korean lawmakers.
The president-elect's plans call for the "deployment of additional THAAD units" to supplement South Korea's missile defense system and to "normalize" the readiness of these units.
"Providing deterrence against the North Korean threat is a matter of sovereignty, and Seoul should remain open to additional THAAD deployments commensurate with North Korea's growing missile threat," Yoon wrote in an op-ed published on May 8. February in Foreign Affairs magazine.
Yoon, a former chief prosecutor, defeated ruling Democratic Party candidate Lee Jae-myung by 0.73 percentage points, or about 247,000 votes, in South Korea's March 9 presidential election. Yoon takes office on May 10.
Stars and Stripes reporter Yoo Kyong Chang contributed to this report.