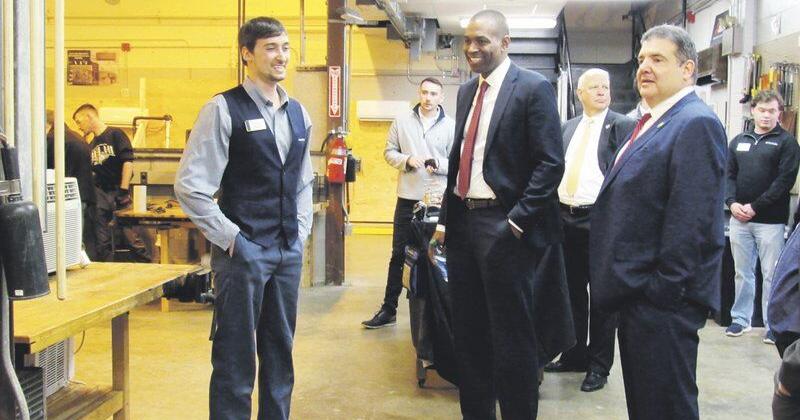 U.S. Representative Antonio Delgado, D-Rhinebeck visited SUNY Delhi on Friday, April 22 to learn more about the college's applied technology program.
Delgado visited the welding, electrical, plumbing, refrigeration and mechatronics buildings on campus to learn about the programs and listen to students and teachers.
SUNY Delhi, Dean of Applied Technology, Carlos Cabrera, said the buildings were without power until Friday morning due to Tuesday's snowstorm. He said the buildings are on a separate grid from the rest of campus because they require more power and welding creates an electrical short.
DJ Stein, an assistant welding professor, showed Delgado the various welding machines and said the program needed updating. He said students taking welding courses at BOCES have more modern machines than college, as he pointed to a 45-year-old welder. In addition to needing new welders, he said the building needed a new ventilation system.
"The comeback is here," Stein said. "We have the students to pay the tuition."
Stein said there is a waiting list for students who want to take the welding program and there is a demand for welders.
There is also a demand for staff in the other programs visited by Delgado. Jonathan Reynolds, who is an instructor in the refrigeration department, said there were 27 seniors this year and one company said it would hire each of the seniors. He said the company does all refrigeration repairs for Wegmans stores.
Most of the seniors Delgado spoke to already had jobs pending after graduating in about 20 days. Ryan Ford, who majors in mechatronics, said he interned at Cornell University and would work there after graduation. Ford said he was originally an architecture student, but "then I heard about this program. I loved modeling, so it suited me better."
Nick Meska, an HVAC specialist, said he would work at Newburgh after graduation. He said he originally studied engineering at Pennsylvania State University, but liked working with his hands more than designing systems, so he changed schools and majors.
Delgado said he wanted to know more about the college and what they offered. "I love that so many graduates come back and teach," he said.
Prior to the tour, he visited SUNY Delhi President Michael Laliberte about college.
Vicky Klukkert, editor, can be reached at [email protected] or 607-441-7221. Follow her @DS_VickyK on Twitter.