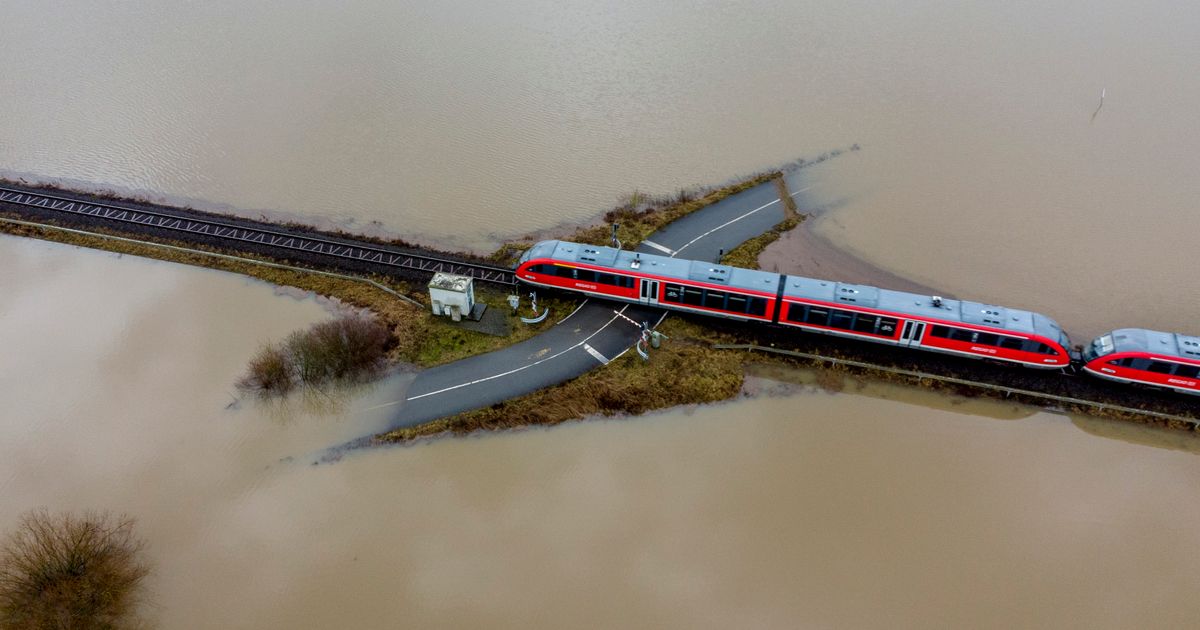 DATE: different periods in 2021
LOCATION: Nidderau, Germany; Dhanbad, India; Sequoia Crest, California; Limni, Greece; Suesca, Colombia
PHOTOGRAPHERS: Michael Probst; Altaf Qadri; Noé Berger; Thodoris Nikolaou; Fernando Vergara.
___
Scenes from a warming world:
In Germany, a train passes a level crossing surrounded by flood water. In one of India's poorest states – and one of the most vulnerable to climate change – a man climbs a ridge with a basket of scavenged charcoal against a colored background. In California, a dreamlike scene unfolds as a man climbs a giant sequoia in an effort to preserve the sequoia's DNA in the face of spreading wildfires.
In Greece, a man stands on a beach with his legs submerged and watches a forest fire burn in the water. And in Colombia, a cracked mud landscape on the horizon evokes a sci-fi world in a distant galaxy while telling the tale of a lagoon parched by climate change right here on Earth.
As the global climate changes, AP photographers have challenged themselves in 2021 to tell it in a visual way that will have an impact and make people think. Other than that, these pictures do that. Together, they represent an album of a planet rushing towards a fate that some say it just doesn't want to prevent.
___
CITED
MICHAEL PROBST, Associated Press photographer:
"AP photographers around the world have covered floods, fires, droughts and famine over the past year. And it is clear that climate change and global warming are contributing to some of these disasters. "
For the dramatic photo here: "Following advice from a colleague, I went to the area near Frankfurt which has been inundated for a few days due to heavy rains. I started my drone, flew about 500 meters over flooded fields, and reached the level crossing. I waited for a train to come, I shot exactly one frame and came back because the battery was low.
___
For a full look at the events that shaped 2021, "A Year That Changed Us: 12 Months in 150 Photos", a collection of AP photos and journalist memorabilia, is available now: https: // www. ap.org/books / a-year-that-changed-us